Mandy Roussel has received Grandmother's Buttons' endorsement.
Well, the endorsement came before Grandmother's Buttons closed its 37-year-old antique button jewelry business in December, when Roussel was one of its jewelry designers.
She still had lots of button jewelry ideas and was thinking about starting her own line of designs. Grandmother's Buttons owner Susan Davis encouraged her and even used the business' email list to introduce Boujoux jewelry to her clients.
That's the name of Roussel's button jewelry line, Boujoux, a name, she says, incorporates the French words for both buttons — boutons — and jewelry — bijoux.
"So, it means 'button jewelry,'" Roussel said. 
The former St. Francisville store endorsement launched a flood of orders. Roussel was almost afraid that she couldn't keep up.
She does operate her business out of her Baton Rouge home, after all. Space in her workroom is limited, so storing an abundance of stock is almost impossible.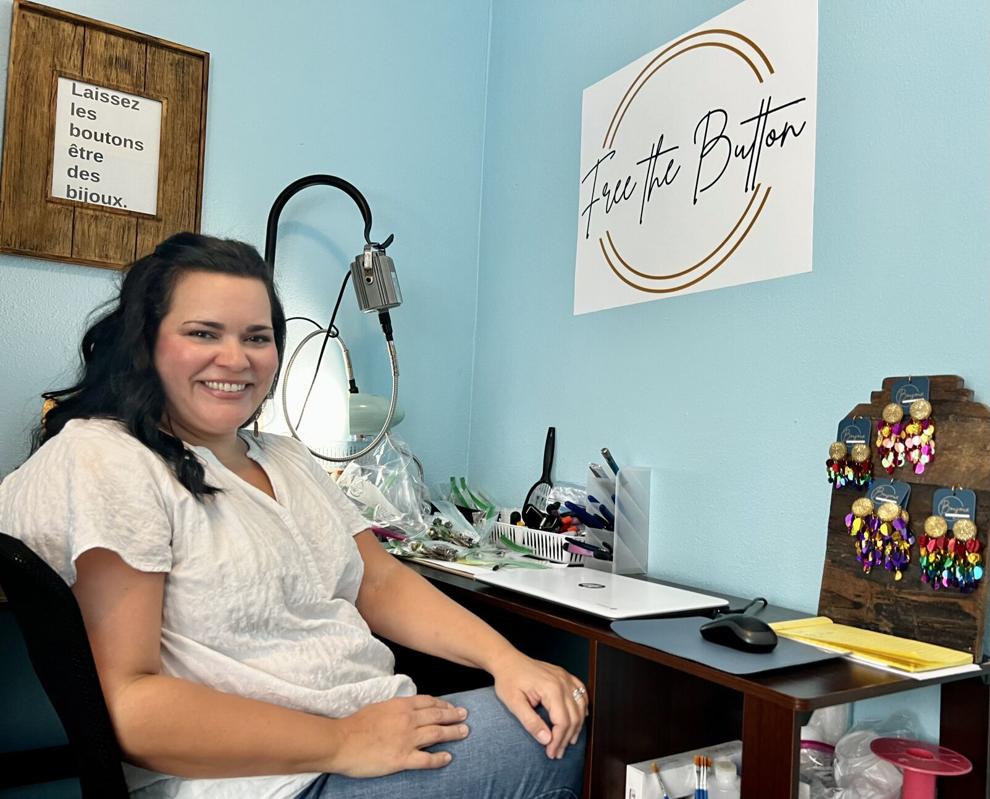 Roussel knows she won't be running out of supplies anytime soon. Davis sold her some leftover buttons and jewelry materials after Grandmother's Buttons closed its doors and is introducing the jewelry designer to her wholesalers.
Everything else is up to Roussel, who is creating her own designs, some of which are purposely off balance.
She'll turn some fixtures sideways or upside down to create totally different looks. It's something for which she was known at Grandmother's Buttons, though not all of her designs passed muster there.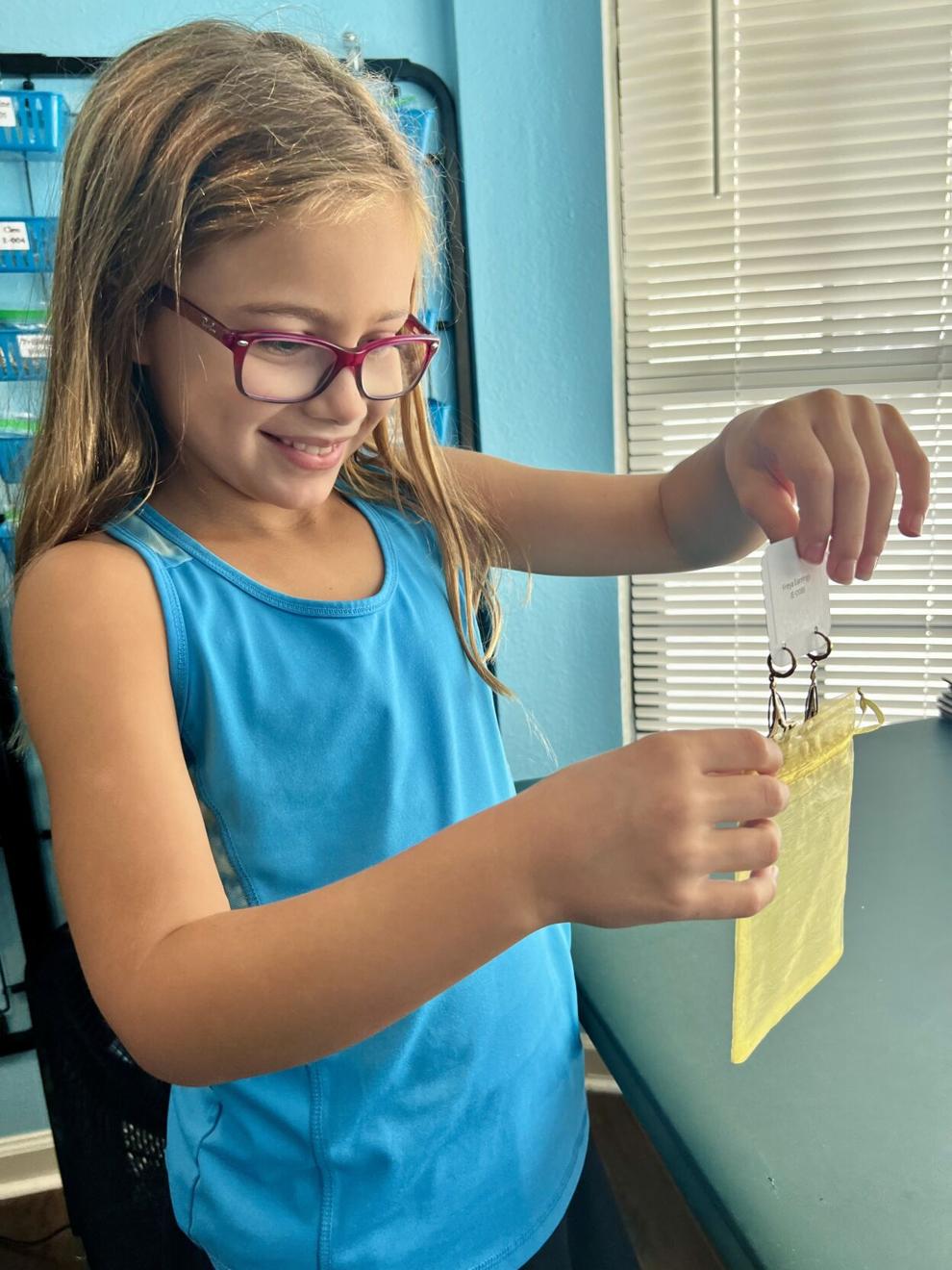 "I didn't take it personally," Roussel said. "Grandmother's Buttons' jewelry had a certain look. So, when I started Boujoux, I said, 'Oh my gosh, I can do these now.'"
Grandmother's Buttons fans naturally will see shades of the former jewelry business in Roussel's work. How can they not? Some of her earrings and bracelets incorporate the same kinds of glass and antique buttons as centerpieces.
Still, other designs are more modern with beaded buttons serving as the base for shimmery loose sequins. Then there are the occasional pieces that are somehow perfect in their asymmetry.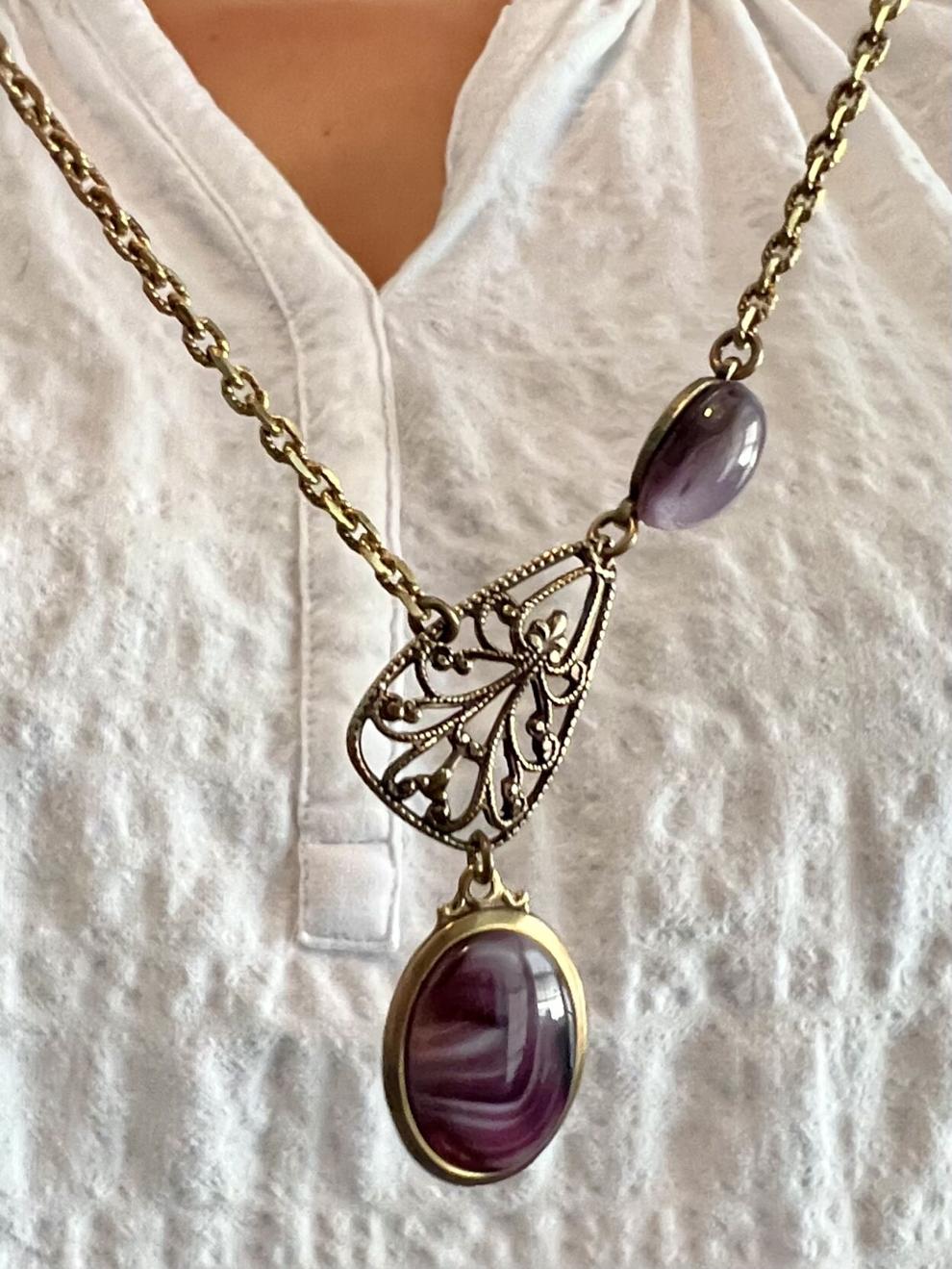 Roussel has been designing her own jewelry since 2006, though this wasn't her planned career path.
"I like to say that I took the long way around to jewelry-making," she said.
The Baton Rouge native majored in anthropology at LSU, then enrolled in George Washington University to study forensic science.
"I like to figure things out," she said. "That's what I loved about anthropology, and it's why I wanted to study forensics. But then I realized that that wasn't what I wanted to do."
So, she moved to Austin, Texas, to figure it out. She started designing jewelry, which morphed into a business.
She also met and married her husband, Matt, along the way, and the couple eventually became parents to daughter Veronica, now 10. She took a 10-year hiatus from jewelry when their twins Stella and Odette were born.
Stella and Odette are now 8, and Stella has since become an integral member of Roussel's Boujoux team.
"She's my vice president of packaging," Roussel said. "All of my girls have been extremely excited for me and so supportive, but Stella is the one that has been so interested in everything. She loves the whole process. I made her a spreadsheet, and she did my inventory for me."
Still, Stella's job came later. Roussel restarted her jewelry-making career in 2022 after applying for an opening at Grandmother's Buttons.
"I applied on a whim to earn extra money, but I gained so much more than a paycheck," she said. "I worked there for only a year, but it reignited my passion for jewelry designing."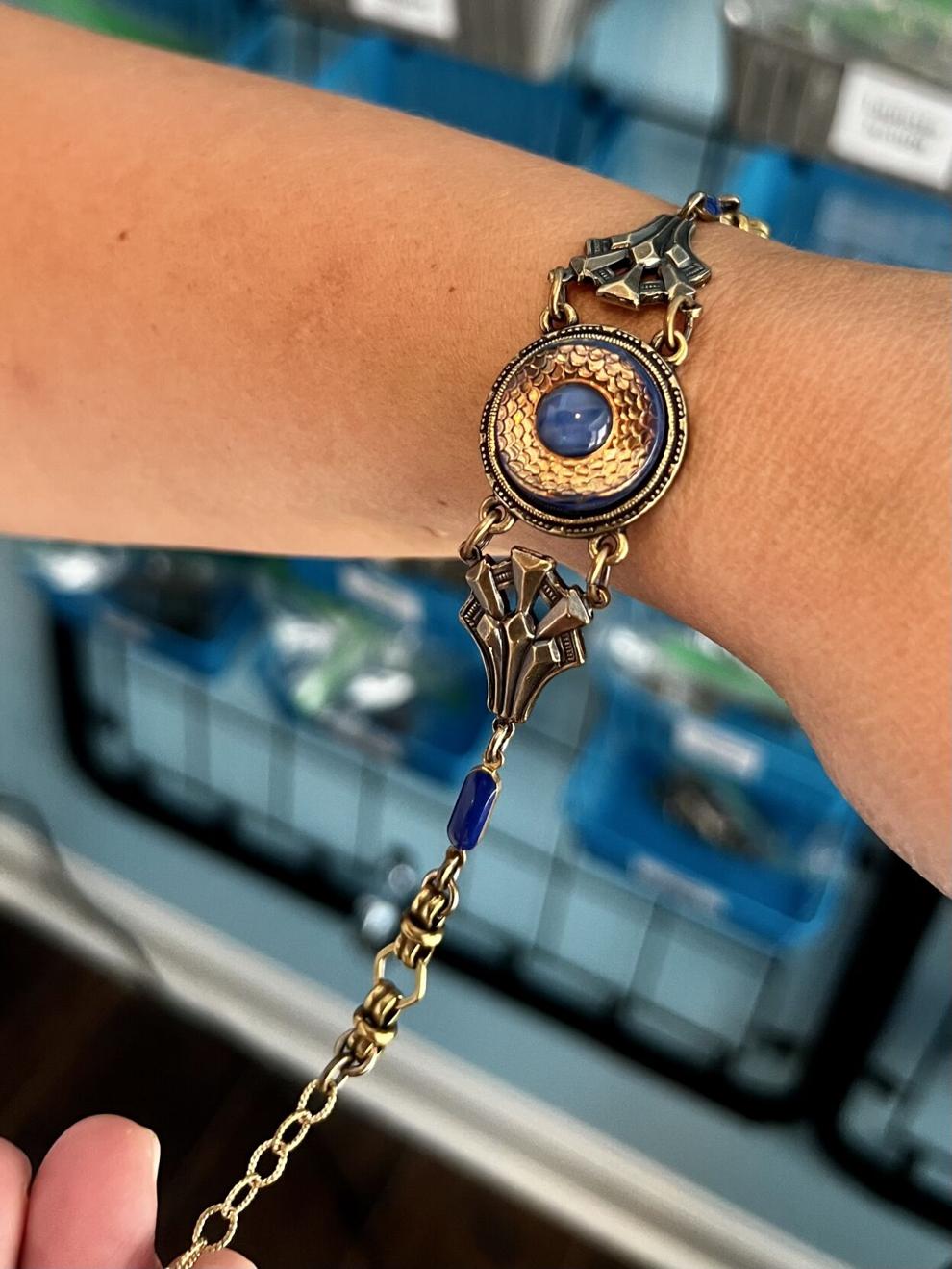 She also developed a new appreciation for vintage buttons and glass.
"I didn't go to work for Grandmother's Buttons thinking I would fall in love with buttons, I can tell you that," Roussel said, laughing. "But I've become obsessed with them."
Just one glance around Roussel's workspace is proof of that. Shelves and surfaces are filled with buttons. Some are already in jewelry form, while others are works in progress.
Earrings are the dominant designs here, clearly Roussel's favorite.
"I'm a huge fan of statement earrings, and those really weren't represented in Grandmother's Buttons," she said. "That's always kind of been my style, and Susan identified it for me. She said, 'You know, you're art deco.' And I realized I am. I've always liked geometrical shapes and turning them sideways and upside down."
Roussel glances at a tabletop filled with her earring designs. The fun part for her is tackling her projects with the same curiosity she applied to her studies of anthropology and forensics to figure it all out.
"The process is what I love most," she said. "Now I have the freedom to do my own thing."
Roussel has received some commissions in Boujoux's first few months, some of which have become part of her jewelry line. That circles the conversation back to the aforementioned shimmery, sequined earrings anchored by the beaded buttons.
This design started when a client requested a pair of earrings in flamingo colors, which prompted Roussel to start thinking about her love of sparkles.
"When I was getting married, I was at my grandmother's house, and she pulled out her mother's costume jewelry," she said. "We were kind of going through it to get ideas, then all of a sudden, she pulled out these giant gold sequined balls."
Roussel knew she would have to wear those pierced, golden ball earrings, but she wasn't going to wait until her wedding. She immediately put them into her ears.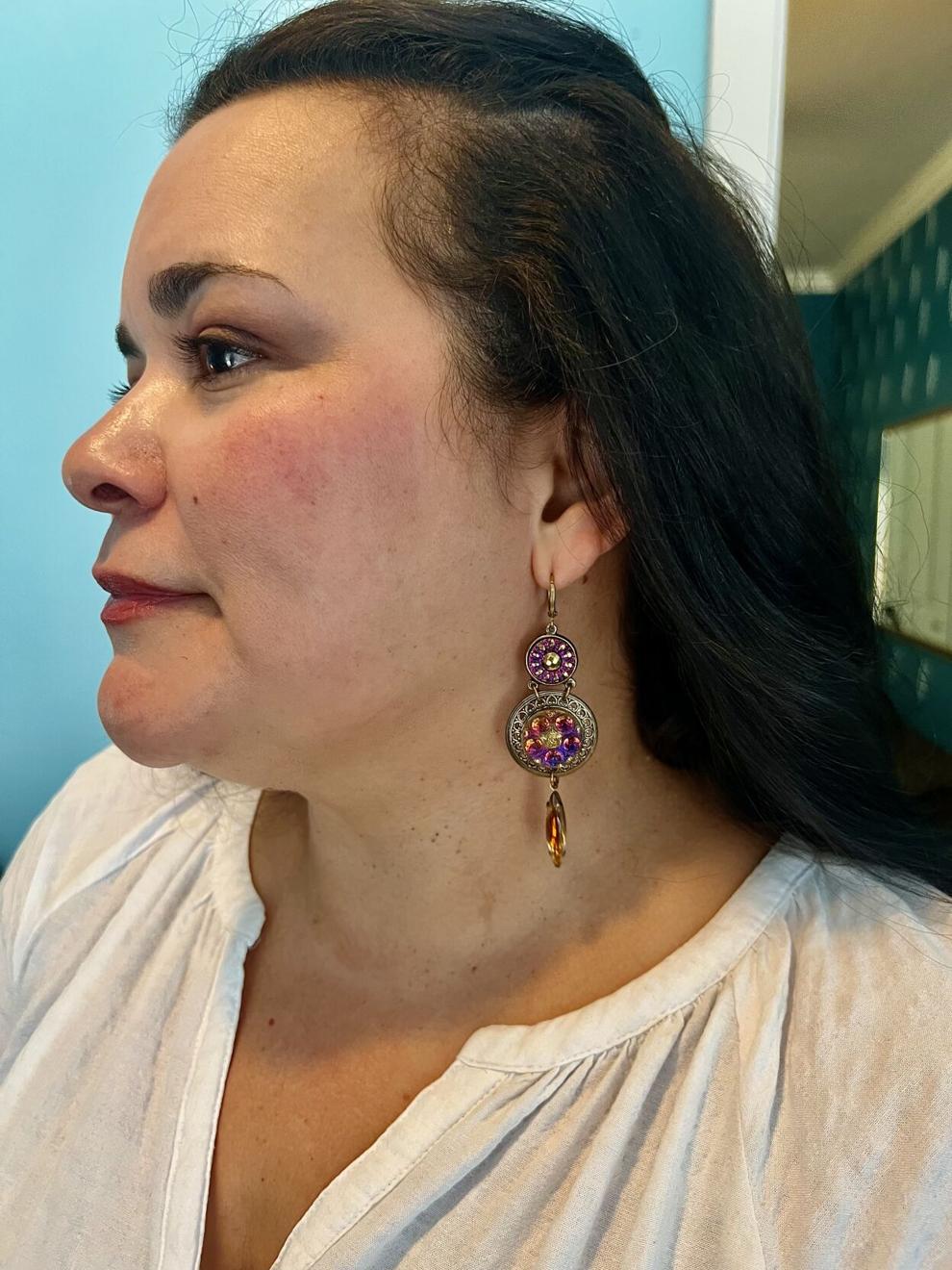 "I just loved those earrings, and so, when my friend was asking me to make her some earrings with flamingo colors, I was like, 'You know, sequins would be super fun,'" Roussel said. "And so, that's what started this line of earrings — I was inspired by my great-grandmother's earrings."
Add to that the fact Roussel's friend is a TikTok influencer and wore the earrings in her videos. Sales naturally exploded.
"Everybody was asking her about these earrings, and I ended up naming them 'Tamara' after her," Roussel said.
"Tamara" earrings come in long and short lengths and also are available in rainbow and purple and gold. 
"When people started seeing them, they were like, 'Oh my God, I need these,'" Roussel said. "I just did the purple and gold, but they haven't gone up the website yet. They will probably be coming out at the end of July, and I'm anticipating that they'll be popular because LSU football season will be starting soon."
Mandy Roussel was a designer at Grandmother's Buttons in St. Francisville before opening her own jewelry design business, Boujoux, last spring.
Roussel also has named other designs for her friends, while some names are googled and used for what they mean. Take her "Aurelia" necklace, for instance. The name means "golden one."
"The necklace is gold and shiny, so Aurelia was the perfect name for it," Roussel said.
Roussel's business, for now, is entirely internet-based. Customers can check out her designs at boujoux.co, where they also can sign up for the business' email list.
Roussel sends out newsletters with photos and descriptions of her new designs every couple of weeks.
In the end, no matter their names, all of Roussel's pieces fall under the name Boujoux, blessed by Grandmother's Buttons.