Mary Quant, the British designer who made the miniskirt fashionable, has died aged 93.
A statement from her family to the PA news agency said she "died peacefully at home in Surrey, UK this morning".
Her family said she "was one of the most internationally recognised fashion designers of the 20th century and an outstanding innovator of the Swinging Sixties".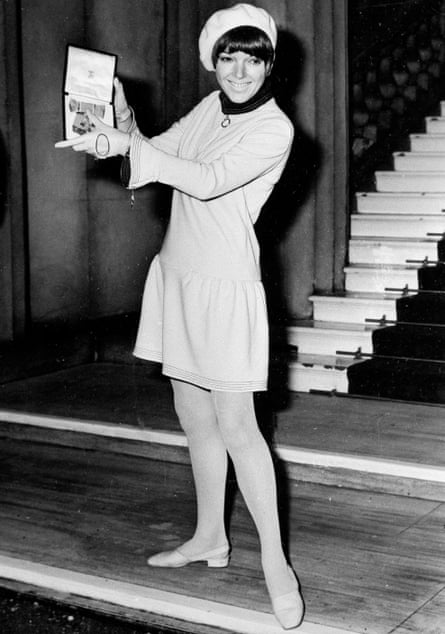 During the 1960s Quant became a poster girl for London's Youthquake. Although she is often miscredited as the inventor, she undoubtedly made the miniskirt the "it" clothing item for a new generation of young women. With her Vidal Sassoon haircut and burgeoning reputation as the figurehead for Swinging London, she was frequently photographed and was almost always wearing a mini – including on the occasion of receiving her OBE in 1966. Quant did far more than wear miniskirts – she designed them too.
She was at the vanguard of the 60s shift in fashion, one that put youth centre stage for the first time. Her clothes were bright, colourful, comfortable and simple, taking inspiration from subcultures such as the mods as well as school uniforms. While they were not cheap – a pinafore dress cost six guineas in 1963, the equivalent of just over £100 – her clothes were more affordable than those made by designer brands.
They appealed to a new generation of young women with jobs, and more disposable income to spend on clothes. The designer summed up the decade's new mood, writing in her bestselling 1966 autobiography Quant by Quant that "the young were essentially tired of wearing the same as their mothers".
A post on the Twitter account of the Victoria and Albert Museum, which recently hosted an exhibition about Quant's designs, said: "It's impossible to overstate Quant's contribution to fashion. She represented the joyful freedom of 1960s fashion, and provided a new role model for young women. Fashion today owes so much to her trailblazing vision."
Alexandra Shulman, a former editor-in-chief of British Vogue, paid tribute to Quant on Twitter: "RIP Dame Mary Quant. A leader of fashion but also in female entrepreneurship – a visionary who was much more than a great haircut."
1960s fashion icon Twiggy, whose real name is Lesley Lawson posted on Instagram: "Mary Quant was such an influence on young girls in the late 50s early 60s. She revolutionised fashion and was a brilliant female entrepreneur.
"The 1960s would have never been the same without her.
Fellow fashion designer Sir Paul Smith said she was a "brave innovator who was constantly modern, willing to shock and blessed with a business and personal partner [Greene] who could help turn her ideas into reality."
Photographer and model Pattie Boyd tweeted that Dame Mary had made her and her first husband George Harrison's coats when they wed in 1966. "A true icon," she said as she shared a photo of the wedding day.
Quant was born in London in 1930 to teacher parents from Wales. Although she did not train in design she experimented with clothes from an early age. At school she began to shorten her skirts. In Quant by Quant, she recalls observing a child in her tap-dancing class wearing a short skirt, as inspiration for the mini.
She studied illustration at Goldsmiths in London and completed an apprenticeship with the milliner Erik of Brook Street. She began working in fashion proper in 1955, when she opened the Kings Road store Bazaar with her husband, Alexander Plunket Greene. The store soon became a hangout for the young and fashionable, with crowds forming outside the door.
Quant initially designed clothes based on simple dressmaking patterns. She disrupted the conventions of contemporary retail with a constant replenishment of stock. The takings for a day would pay for the cloth to make the next day's new designs. While it was not her intention, the legacy of this can be seen in fast fashion today.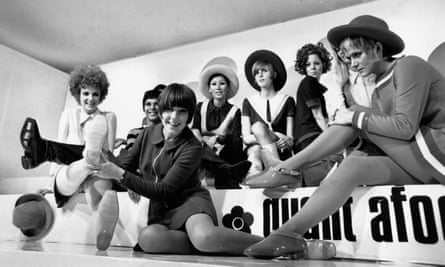 Her innovations were not limited to the miniskirt. Quant also championed tights, particularly in bright and unusual colours. Again, although she did not invent them, the Quant effect meant they became fashionable. By 1973, an article in the Sunday Times argued that she was the reason most women wore them. Hotpants, onesies and PVC raincoats can also be traced back to her work, and – unusually for the time – she used models of colour, including Donyale Luna.
Married to Plunket Greene until his death in 1990, the couple had a son, Orlando, who has been involved in retaining his mother's legacy. During London fashion week in 2019 he unveiled a plaque on the Kings Road building where Bazaar once stood.
Quant can be seen as an early example of turning a fashion label into a brand. She designed her logo, a black and white daisy, in the 1950s, which went on to appear on packaging for her clothes. A cheaper line, the Ginger Group, launched in 1963, as well as tights and a successful makeup line. Mary Quant Cosmetics, launched in 1966, was her calling card even as attention on her clothes waned. The cosmetics line remains in existence.
In recent years, the designer has appeared on the radar of a younger generation. A 2019 exhibition at the V&A was the first in 50 years and included 35 pieces sourced from a public call-out. This was followed in 2021 with a documentary, Quant, directed by Sadie Frost, featuring names including Vivienne Westwood, Kate Moss and Edward Enninful. Her friend Jasper Conran summed up her legacy best: "Mary Quant is, without a doubt, one of the most important British designers ever."